Here, you can learn how to change your preferences and how to make Muscles & Kinesiology more accessible.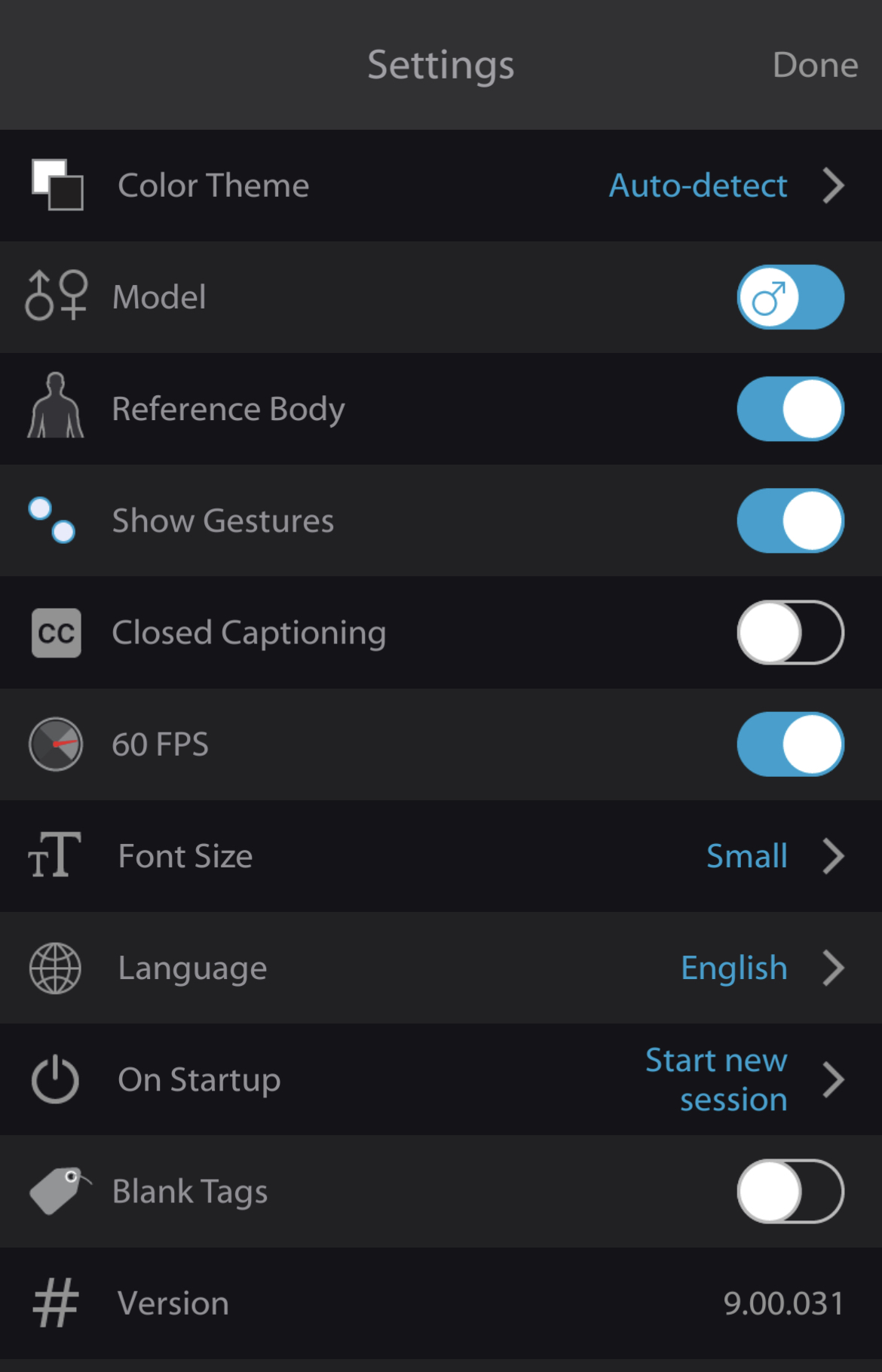 Muscles & Kinesiology offers many different accessibility and preference options. These are in the settings menu at the bottom right of any screen.
Color Theme | Adjust for light
Choose from black, white, and gray backgrounds to adjust for different lighting conditions, such as low-light environments. Turn on Auto-detect to match light or dark mode to your setting preferences.
Model | Female/Male
Atlas features complete female and male anatomy models. This setting toggles between them.
Reference Body | Anatomy in Context
Turn on a glass-like outline of the human body to help identify where anatomy exists in relation to the rest of the body.
Closed Captioning | Add subtitles
This feature turns on subtitles that match the audio in animations.
High Quality | Adjust for slower internet speeds
Turn on this feature for the best version of the 3D models. These high-quality models use more computer and internet resources. If you experience slow loading or lagging, turn off this setting.
Font Size | Select text size
Change the font size to make the text appear larger or smaller.
Language | Select preferred language
Human Anatomy Atlas supports seven different languages: English, Simplified Chinese, French, German, Italian, Japanese, and Spanish.
Blank Tags | Quiz yourself
The tags feature adds labels to multiple 3D models. This setting removes the structure names from inside the tags, so you can create worksheets and self-study cards by adding blank labels to multiple 3D models.
Suggest Flashcard Labels | Study with accuracy
Turn on Suggest Flashcard Labels to enable the Auto-Label option when creating your Flashcard. This feature automatically fills in the name of your selected structure when you add a label to a Flashcard.
Controls | Select how you move models
This feature gives you the option of using a virtual joystick on your desktop. The joystick is a great option if your trackpad is very sensitive to rotation. You can also select the direction that models rotate and pan using the joystick, a mouse, or a trackpad. The Invert Pan and Invert Rotation controls let you change the rotation from right to left and from up to down when you gesture on the trackpad or use the mouse or joystick.