The Gradebook shows all students in a course and how they have performed on graded assignments. Grades in the Gradebook are organized chronologically by due date, with the first assignment on the left. Watch the video below to see how to manage your students' grades.
Select any grade to see the student's response to each question in the quiz. Select the arrow at the top right of any assignment to:
View the results of all quiz attempts
Manually change a student's grade
Extend a student's deadline for taking the graded assignment
Select the Export CSV option in the top right to download a csv file that can be uploaded into your Canvas, Blackboard, Moodle, or D2L gradebook.
How do I set points for a quiz?
When you create a quiz assignment, in the "Quiz Style" section:
Choose how much this quiz is worth. Note: All quizzes in the same Graded Quiz Assignment will have the same number of points. If you want quizzes to have different point values, they need to be in different quiz assignments.
Choose to display grades as points or as a percentage.

Here, you can also change the number of attempts your students will have for the quiz and set a time limit.
How do I weigh questions?
You can also weigh questions differently within a specific quiz that you want to assign. The question weights are relative to the other questions in that quiz, so these points do not affect the overall point value of the quiz.
Example
Let's say that you created a Graded Quiz Assignment with 5 questions. Here are two ways you could weight the questions:
Scenario 1: All five questions are worth one point: If a student misses one question, they will score 4/5 or 80%.
Scenario 2: Four questions are worth one point and the last question is worth two points: If a student misses the last question, they will score 4/6 or 67%.
The number of points the student gets toward their overall course grade depends on how many points the quiz itself is worth. If the quiz is worth 10 points:
In Scenario 1, the student receives 8/10 points towards their course grade.
In Scenario 2, the student receives 6.7/10 points towards their course grade.
How is a student's course grade calculated?
The Gradebook calculates a student's overall course grade by:
Calculating the total number of points that a student was awarded
And dividing it by the total number of points available
A students' overall course grade is always displayed as a percentage.
How do I export grades to another LMS?
To export grades from the Gradebook for use in another LMS, such as Canvas, Blackboard or Moodle, just click on the "Export CSV" button in the upper right corner of the Gradebook. Then, select the platform for which you have created the CSV.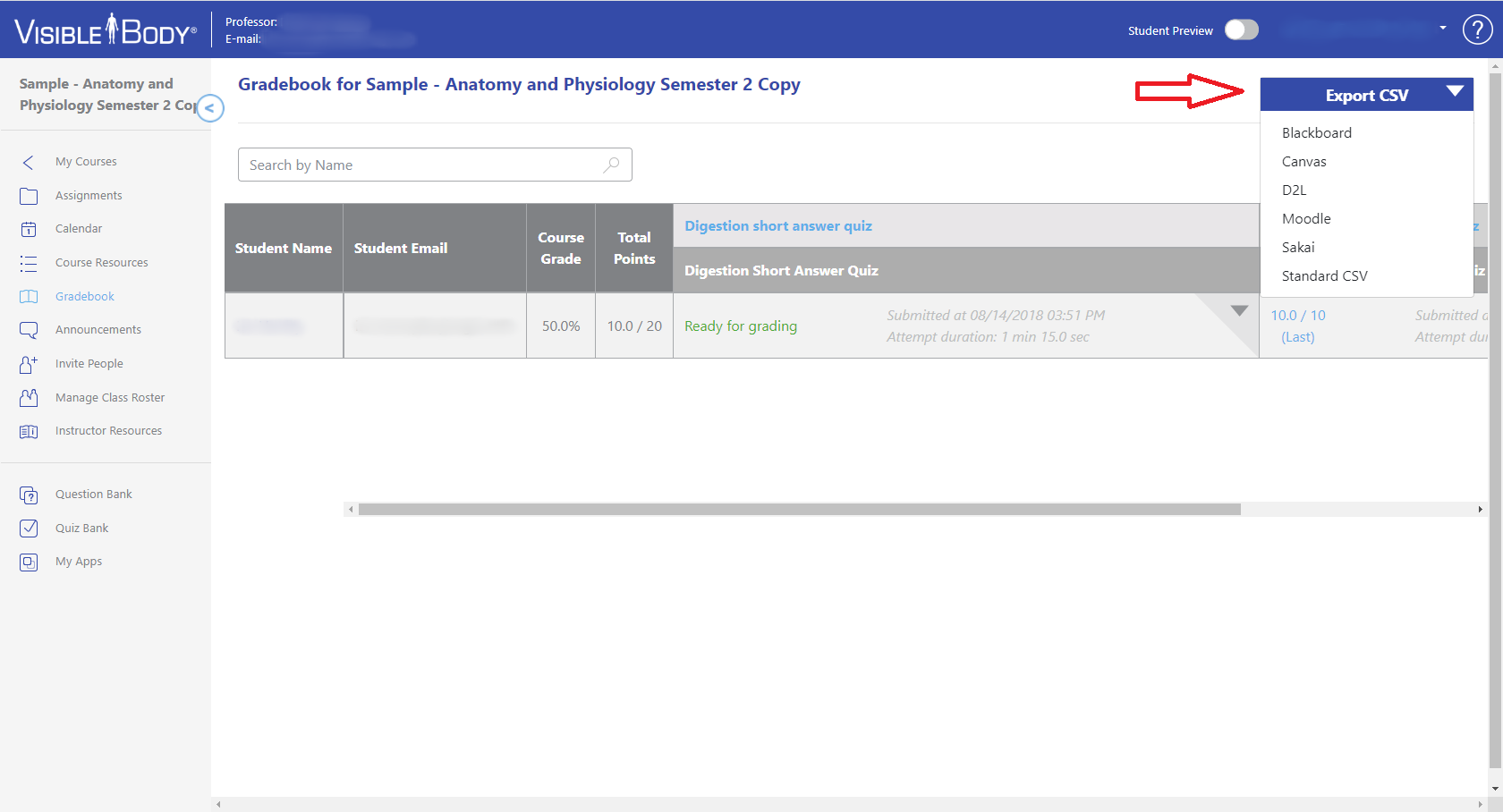 If you have any questions about using the Gradebook, submit a ticket.