If your instructor is using Courseware for a course that you are enrolled in, this article explains how to create a Courseware account and get into your instructor's course so that you can complete assignments.
Instructors who set up a course in Courseware send invitations to enrolled students. That invitation is a course link that should look something like this:

Create an Account
If you do not have a Courseware account, follow the steps below to create an account and join your instructor's course.
Use the link provided to you by your instructor to access Courseware.
On the welcome page, select "Sign up!"
Add the following information to create your account.

Type your email address and confirm it.
Create a password and confirm it.
Add your name.

Read the Terms of Use and use the checkbox to agree, then use the CAPTCHA and select "Continue."

Now, you can either

Buy your full Courseware access right away
Enter an activation code to get full Courseware access right away
Or start your 2-week free trial of Courseware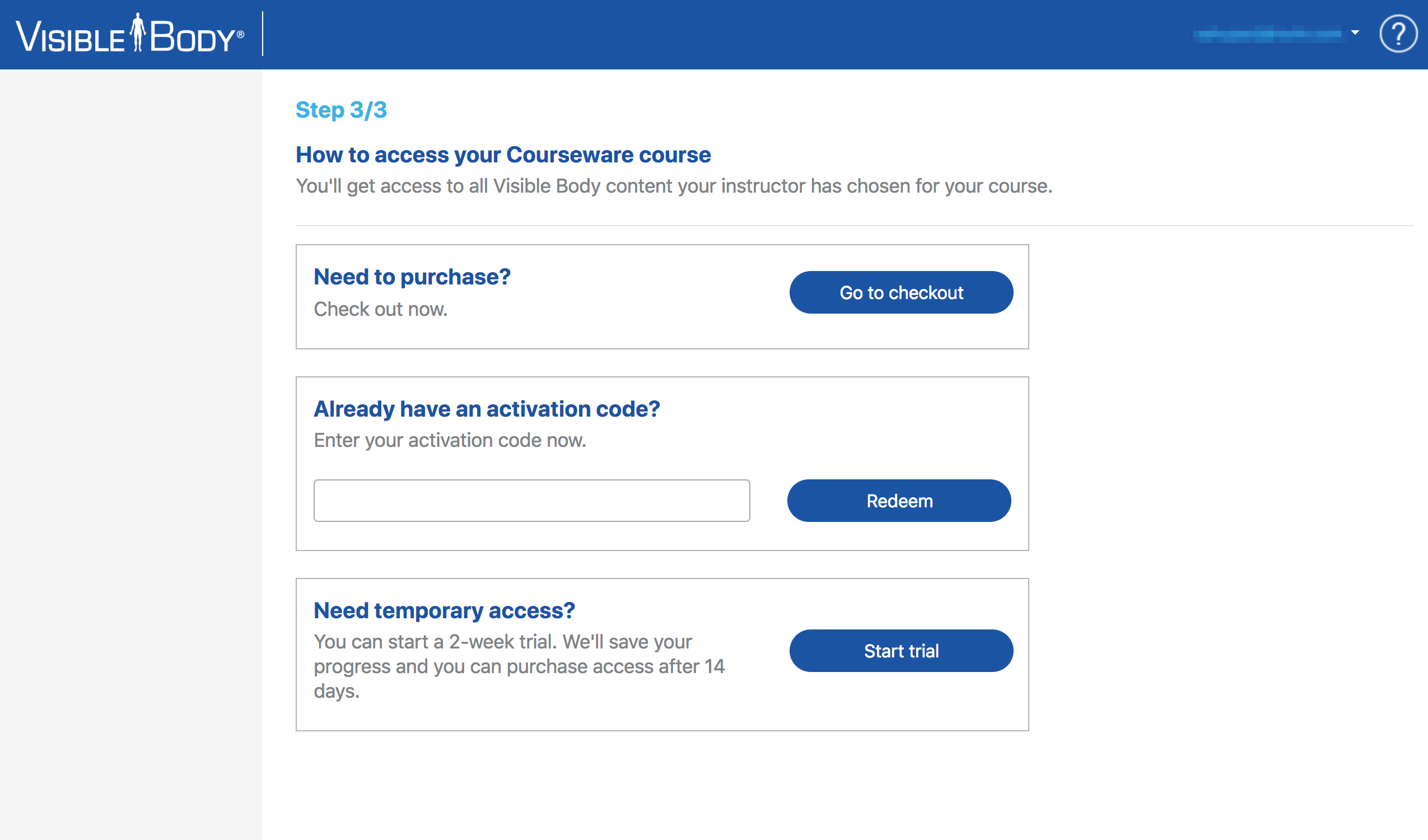 Need to purchase right away?
Select "Go to checkout."
In the pop-up, enter your payment information and click the button at the bottom to buy. On the next screen in the pop-up select "Continue."
After just a few seconds you should have full access to Courseware, your instructor's course, and the mobile app downloads.
Already have an activation code?
Simply enter your code and select "Redeem" to gain full access to Courseware. This will also automatically add you to your instructor's course.
Need temporary access?
If you aren't sure that you want to purchase Courseware right away, select "Start Trial." This gives you access to Courseware for two weeks. And we'll even save your work in your account when your trial expires.
Now that you have a Courseware account, you can log into Courseware at courseware.visiblebody.com to access your course materials.
Join with an Existing Account
If you already have a Courseware account, follow these two steps to join the course and gain access to the assignments:
Use the link provided to you by your professor to access Courseware.
On the welcome page, select "Sign in!"
Use your email address and password to log in. You should now have access to your instructor's course and any published assignments.
If you still have questions about the process, submit a ticket.