This article is for professors who want to use their course's materials and schedule again in a future semester. It's as simple as making a copy of the course, and then managing due dates of assignments to account for holidays, professional days, and vacations.
Make a copy of your course
It is easy to copy your course for next semester.

Log in at

https://courseware.visiblebody.com
Find the course you want to use again, and select the dropdown arrow on the right.
Then, select "Make a Copy".
In the copy pop-up, you can:
Change the name of your new course
Set the start date for your course
Set the due date for your first assignment
A copied course keeps the same number of days between assignment due dates as there were in the original course. For example, all of your assignments due on Fridays in the original course will be due on Fridays in the copy as long as you select the same weekday for the first assignment's due date in the copy as you did in the original.
NOTE: You will still need to manually edit due dates in your course to account for holidays, professional days, or any other days off over the timeline of your course.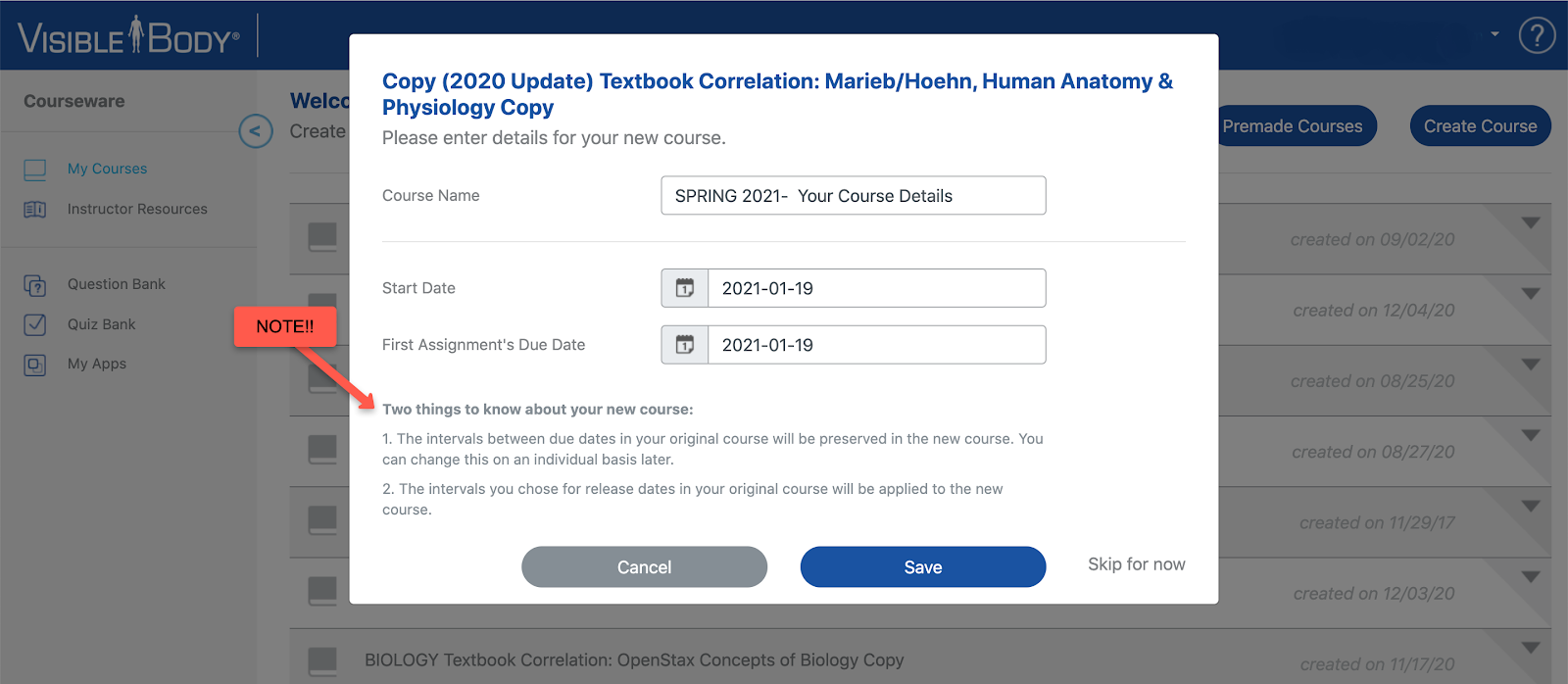 Publish assignments
Once you've made a copy and set your start date, you may want to update some of your old assignments and quizzes. See our other articles on how to edit assignments and quizzes.
A newly copied course will have all of its assignments saved as drafts; they won't be published or visible to students. This facilitates instructors wanting to publish their assignments over time as the course moves on. You can use the bulk editing tool to make publishing the first section of your course much faster.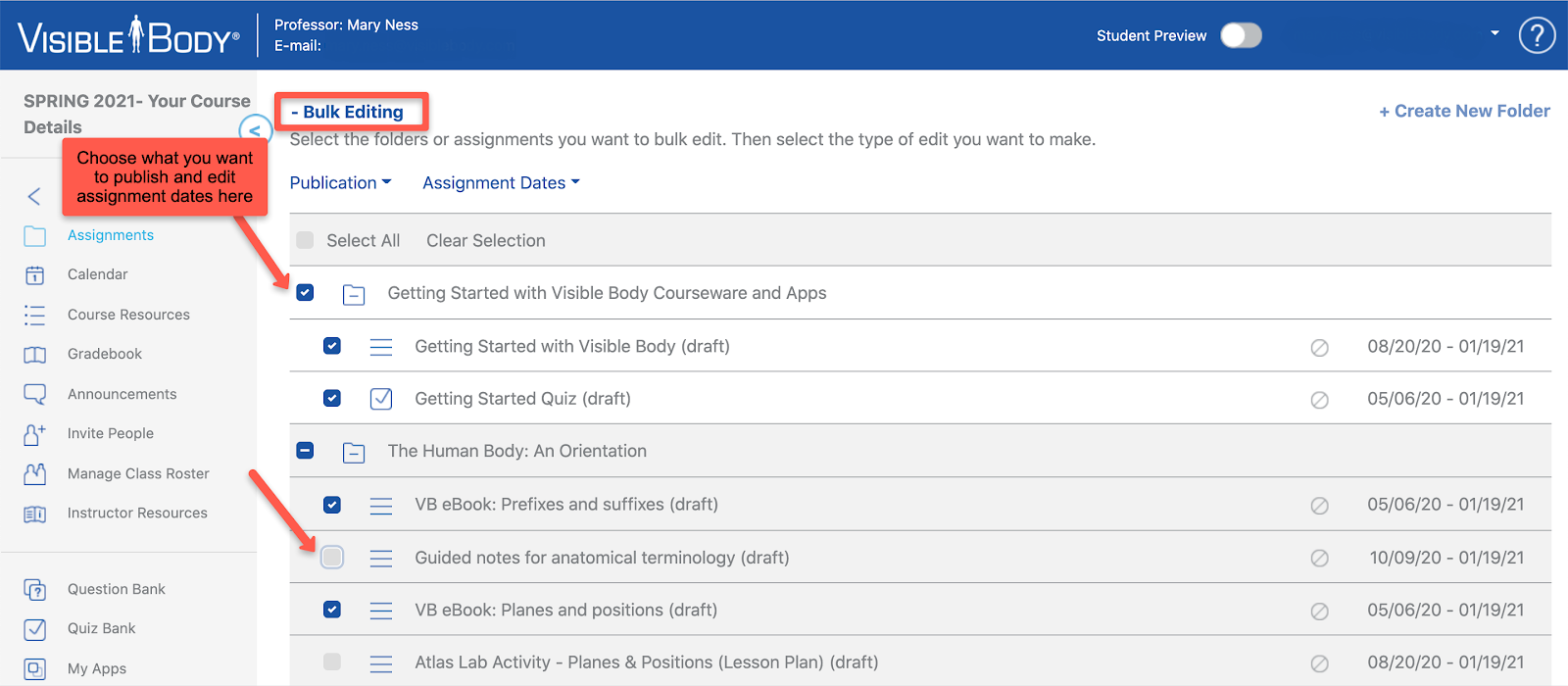 Invite Students
Now that you have a copy of your curriculum and your assignments are published and ready to go, you'll need some fresh students.
Adding students with an LMS Integration
If you use Courseware with Canvas or Blackboard integration, you can find instructions for first linking your respective LMS below, as well as how to invite your students to your Courseware course.
DO NOT use the Invite People tab and course link to invite students if you are using the Courseware-LMS integration.
Linking Canvas to Courseware
Student instructions for signing in via Canvas

Linking Blackboard to Courseware
Student instructions for signing in via Blackboard
Adding students from the Invite People tab
In the "Invite People" tab, you can send the provided link to all of your students, TA's or co-instructors to allow them to join this new course.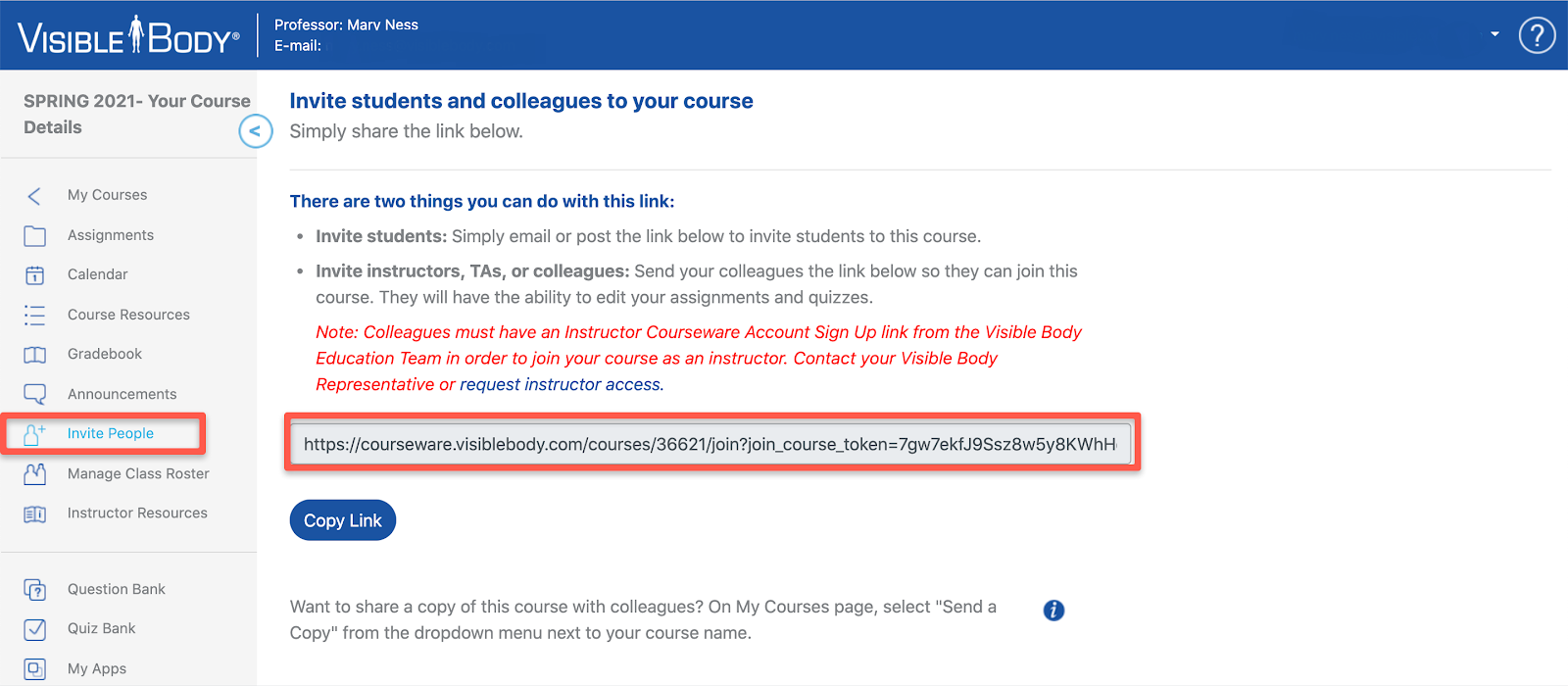 NOTE: Copying a course only copies the assignments and other course materials. All students, and their grades will remain in the original course.
You can read more on the Visible Body blog here: https://www.visiblebody.com/blog/copying-your-2020-courseware-course-for-2021-in-4-easy-steps