If you're a student new to Visible Body Courseware, you may want to learn a bit more about it, how to get started, and how to get around. 
NOTE: If your instructor uses Courseware with Canvas or Blackboard single sign-on please see this article here to set up your account. Steps 1 and 2 below do not apply to single sign-on, but you may still find 3 through 7 helpful!
The video below should give you an easy introduction:
We also have a few tips and tricks, so you can get the most out of Courseware. Here are our top 7 tips for students who are starting out:
1. Start by clicking the invite link from your instructor 
If your school has a site license:
Use the invite link so that you're sent through your school's proxy to the sign-up page

From there, you can follow the instructions to create your account

After you sign up, you can log into Courseware by going to

https://courseware.visiblebody.com,

no need to keep using the link from your instructor
If you are purchasing Courseware or using an access code provided by your school:
Use the invite link to get to the sign-up page

Follow the instructions to create your account

Then, you can either make a purchase or enter your code
2. Bookmark the Courseware homepage
Make a bookmark of https://courseware.visiblebody.com to quickly return to your course.
3. Use the right internet browser
Chrome, Edge, and Safari all work with Visible Body Courseware, but Internet Explorer does not. Here are all the system requirements for Courseware.
4. Start completing assignments
Whenever a new assignment is published or a new announcement is posted, you will be notified with a red dot next to both the category and the content. You can also use the calendar to see exactly when assignments are due. Play the video below for more information on assignment notifications for tracking your progress toward completing assignments:
Remember that Courseware does not work in browsers on mobile devices like phones and tablets. Only the mobile apps work on mobile devices, and assignments and quizzes cannot be completed using only the mobile apps. You must complete them on a computer via courseware.visiblebody.com.
Here's some more information on how to complete your assignments:
Practice quizzes vs graded quizzes:
Courseware serves up content from the Visible Body web apps, but only graded quizzes are recorded in the Gradebook. Graded quizzes are identified on your Assignments page with this icon: 

Practice quizzes are assigned from Anatomy & Physiology, Visible Body Suite, Visible Biology, or Muscle Premium, and will not be recorded in the Gradebook. Practice quizzes in the mobile apps are only for self-study, and will not count toward your grade.
5. Download the mobile apps
You can download the mobile apps for reference alongside your Courseware course! They give you access to Visible Body content while you're on the go. You can learn more about each mobile app available with your subscription, and how to download them, here. 
Once you've downloaded them, they don't even require Wi-Fi!  Make sure you review the system requirements before you download them to your device.
6. Launch the web apps
When launching an assignment or web app, it's normal for the load time to be up to a minute. Make sure you're using an updated version of Chrome, Edge, or Safari, and that your internet connection is strong. Some amazing 3D graphics are loading for you, and once they load, the apps will work fast!
7. Practice manipulating the 3D models
Visible Biology, Visible Body Suite, Muscle Premium, Anatomy & Physiology, and Physiology & Pathology all include 3D models that you can explore. You can move and rotate the models, dissect structures, and zoom through the models' layers. Use our tutorials to learn how to manipulate the 3D anatomy models and build your own custom views.
Feeling stuck? Try our in-app Resource Center
In the upper right corner of the Courseware screen, select the question mark Resource Center icon

to  access our Resource Center.
To create a technical support ticket, select "Submit an idea", then choose "I have a problem" to create a ticket for our technical support team.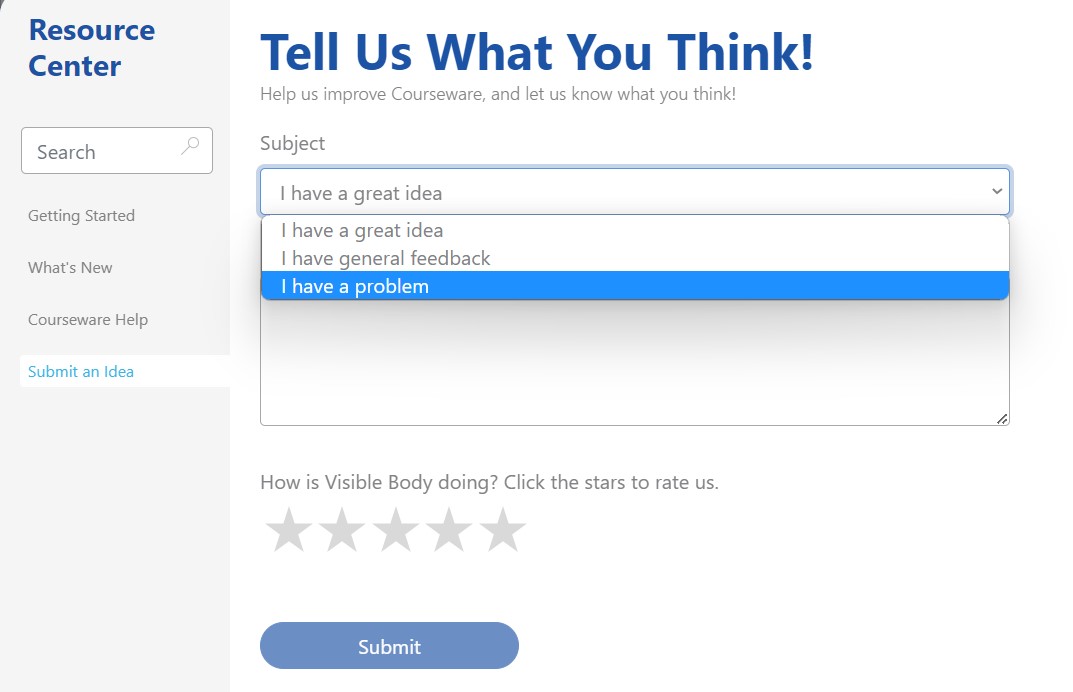 For more FAQs or troubleshooting help, check out these articles:
Courseware Troubleshooting for Students (FAQs)
Problems joining your instructor's Course?
Changing from a free trial to a paid subscription, or extending a paid subscription
You can also find lots of helpful information about using Courseware on our YouTube Channel and on the Visible Body Blog.
If you still have questions, you can contact support at https://support.visiblebody.com/hc/en-us/requests/new