This article is for instructors who need to create a Courseware account, set up a course, and invite students. Courseware enables instructors to deliver online assignments and track students' progress. You can get started by watching this walkthrough video or reading through the steps below.

NOTE: If you are using Courseware with Canvas or Blackboard integration, please follow the instructions for Canvas here or the instructions for Blackboard here to set up your course.
Step 1: Create an Account
To get started in Courseware, follow the link provided by the Visible Body Education Team and create your account. That will take you to the Courseware sign-up page. Your institution's Courseware Admin will set permissions for your Instructor account. Read this article for further details on these permissions, or contact your Courseware Admin.
From there, follow these easy steps:
Add your name, email address, and password
Agree to the terms of use and select "Activate Now"
If you haven't talked to the Visible Body Education team yet about Courseware, you can contact them here.
One item to note:
If you are an instructor who teaches at more than one institution, you will need multiple Courseware accounts. An instructor Courseware account is directly linked between the group license of the institution, and the instructors teaching at that institution.
Step 2: Set Up a Course
There are two ways to set up a course: Choose a pre-made course to start, or, make your own course from scratch.
Choose a course from our pre-made courses. These include full courses with complete assignments and textbook correlation courses. The textbook correlations map Visible Body visual and interactive resources to the chapter content in specific textbooks. If you select a textbook correlation, assignments need additional instruction. If you don't see a premade course correlated to your particular textbook, please contact the Visible Body Education Team, and we'll send you the appropriate course.

Create a New Course with your own authored content with these three steps:
Log into your Courseware dashboard and select "Create Course."
In the course creation page
Choose your product (Courseware: All Content or Courseware: Biology Content)
Enter your course name
Choose your time zone
Enter a course ID (optional)
Upload your school's logo (optional)
Select "Create Course."
To add other instructors to this course, they need to request instructor access from Visible Body. Once they have instructor access, send them the invite link. They will have access and permission to edit your assignments and quizzes.
Step 3: Publish and Create Assignments
Publish your first 1-2 week(s) of assignments. You can do this by creating your own assignments or selecting premade assignments. Assignments left in a draft state will not be visible to your students. You can also use the delayed release feature to give students a heads up on what assignments or quizzes are coming soon. Delayed release assignments only show the assignment's title and when it will be available. Here's how you can personalize a course to fit with your syllabus:
Edit the existing assignments or create new ones
Edit existing quizzes and quiz questions or create new ones to use in Graded Quiz Assignments
Reorganize the course by rearranging folders, making new ones, and changing the release dates and due dates for assignments
Upload external resources to the course
Edit the Course Info
Step 4: Invite Students
If you are using the Courseware-Canvas integration or Courseware-Blackboard integration, DO NOT invite students by using the following instructions. Instead, please follow the instructions for Canvas here or the instructions for Blackboard here.
You can invite students to your courses by following these 3 easy steps:
On the "My Courses" page, select your course.
Select "Invite People" from the menu on the left.
Simply email or post the course link to invite students to this course.
Share with students this Courseware onboarding article.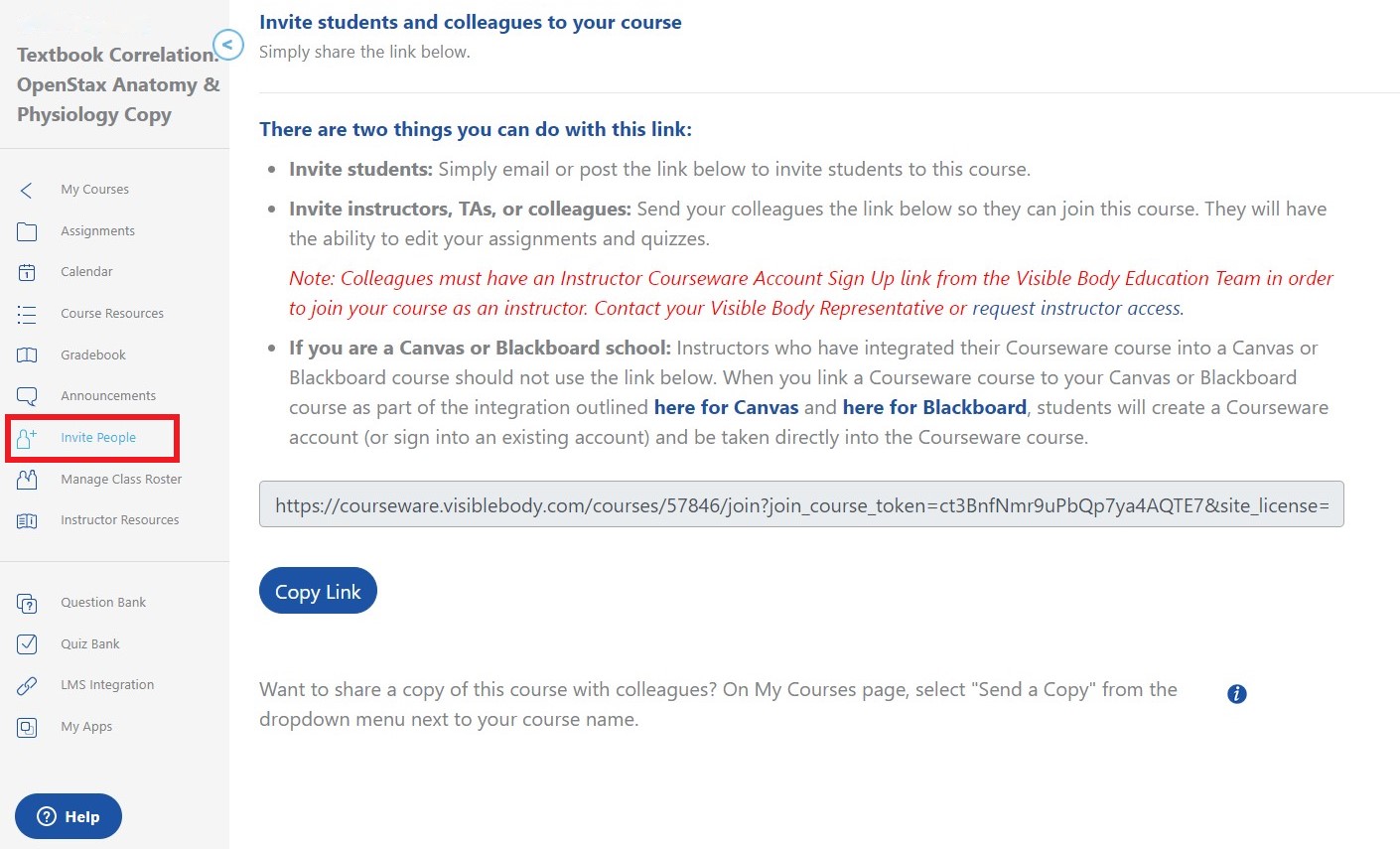 As students join the course using the link you sent out, they will be added to your Courseware Gradebook. When you publish a graded quiz assignment and a student takes that quiz, results are shown in the Gradebook. (Learn more about using the Gradebook.)
Note: Students must have an active subscription to access the assignments. Visible Body offers free two-week student trials, student access via school group subscriptions, and individual student purchases.