This article is for subscribers to Web Suite who are interested in learning how to manage your account. The article covers how to create an account, purchase access, log in to Web Suite, change subscription type, and cancel a subscription.
Create an Account
Follow the steps below to create an account for Visible Body Web Suite.
View monthly or annual billing choices. Both options start with a 7-day free trial.
On the welcome page, select "Sign up"
Add the following information to create your account.

Type your email address and confirm it.
Create a password and confirm it.
Add your name.

Read the Terms of Use and use the checkbox to agree, then use the CAPTCHA and select "Continue."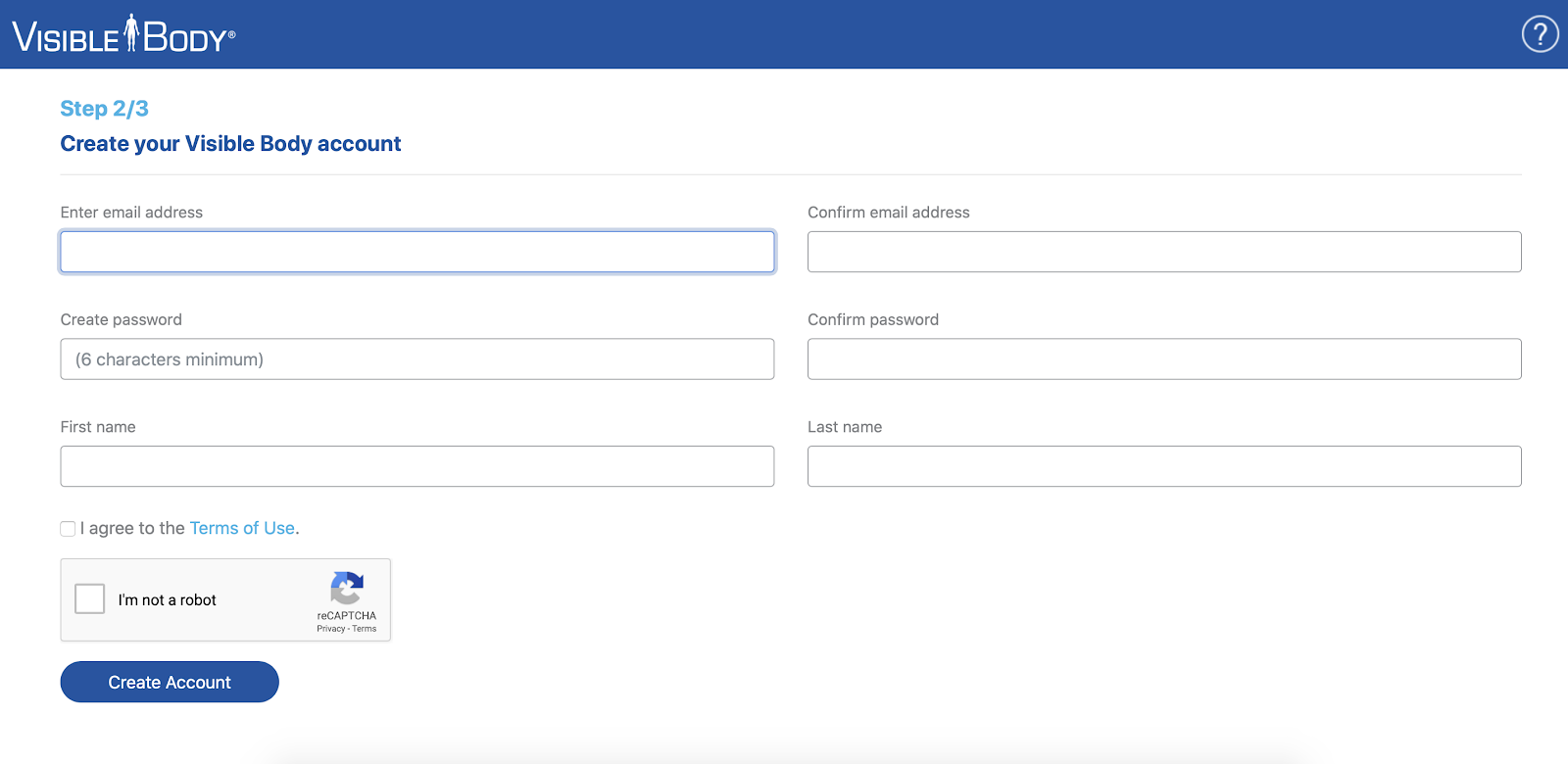 Purchase Access
Now that you have an account, follow these steps to start your free trial and subscribe to Visible Body Web Suite:
Select "Go to checkout." for either monthly or yearly.
In the pop-up, enter your payment information and click the button at the bottom. On the next screen in the pop-up select "Continue."
After just a few seconds you should have full access to all of the apps in Visible Body Web Suite!
At the end of the Free Trial, you will be billed automatically. For more information on managing your subscription look here.
Log in to Web Suite
After creating your Visible Body Web Suite account with a username and password, log back into the platform whenever you want to visit by following these simple steps:
Enter your email address and password.
Check the box that says "Remember me".
Bookmark the page so it's easy to find later.
Switch Billing Cycles
Access to Web Suite is offered both as a monthly and annual subscription. If you would like to switch from one billing option to the other please follow the instructions below.
Follow these steps to switch from Monthly to Annual, or, Annual to Monthly Subscription:
We do not offer partial refunds on purchases to Web Suite, cancel your access using the steps in the section below.
Once your access expires the next time you access Web Suite you will be prompted to purchase either Web Suite - Monthly Subscription or Web Suite - Annual Subscription.
Select the billing option you would like to switch to, either Annual Subscription or Monthly Subscription.
If you purchased a second subscription before your original access expired please contact the Visible Body Help Desk for a refund on your newest purchase. Wait for your original subscription to expire, then repurchase Web Suite.
Cancel my Subscription
Web Suite is an auto-renewing product. If you do not want your subscription to auto-renew you can use the Manage your account link included in the email sent with your initial subscription activation.
Follow these steps:
Use the Subscription management link included in the email sent with your initial subscription activation. That will take you to FastSpring.
Enter the email address used to purchase the subscription.
Check your email for a link to your account at FastSpring.
Select the Subscriptions option to see your Web Suite active subscription.
Under the Manage drop-down menu, select Cancel Subscription and Confirm.
You are able to re-activate your subscription anytime from this same menu.
The cancellation email you receive will note the final date of your subscription. A canceled subscription does not immediately cancel your access to Web Suite. Your account will remain until the end of the subscription period you initially purchased. That date is noted on your cancellation confirmation email and available under your account when you are logged into Web Suite.
If you cancel during your free trial you will not be billed when your access expires. Visible Body does not offer partial refunds on purchases.
If you still have questions check our troubleshooting article or please submit a ticket.