Why can't I access my course?
Note: Courseware is not supported on mobile devices. Visible Body's Courseware platform is a web app only - not a mobile app. However, you can install our mobile apps onto your phone or tablet to access our award-winning content independently from Courseware.
To join your instructor's Courseware course, you'll need to click on the join link your instructor provides. Even if you've taken a Courseware course in previous semesters, the new course will not appear in your Courseware account until you click on a new join link for the new course.
If you are using Courseware via single sign-on with Canvas or Blackboard learning management systems (LMS), you should link your LMS and Courseware accounts by logging into your LMS, navigating to the course, and selecting Visible Body Courseware.
If the link is posted in Blackboard, Canvas, or another LMS, you may need to enable third-party cookies to successfully join your course, or to copy and paste the link into your browser instead of selecting it.
If you continue to have an issue, please contact support with full-screen screenshots of the error, and include your instructor's invite link. If your Courseware course is set up with single sign-on via an LMS, please supply the course and your instructor's name.
Why am I getting a third-party cookie error?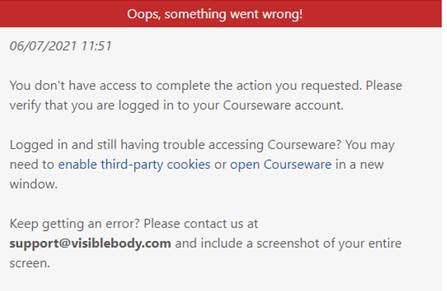 The error message "Enable third party cookies" appears when third-party cookies are disabled in your browser. To clear this error message, you can:
Change your browser settings to enable third-party cookies.
Try an alternate supported browser, such as Chrome or Edge. Please check that this alternate browser is up-to-date and also has third-party cookies enabled.
Note: Courseware is not supported by iOS and Android.
Why can't I play animations using Safari?
If you are trying to play animations in a Visible Body web-based app and are using Safari, you need to set the browser to allow auto-play animations.
Take the following steps:
Open app in Safari
Open Preferences
Select Websites
Select Auto-Play
For the website you are using, change the dropdown from "Stop media with sound" to "Allow All Auto-Play"
Why can't I launch my quiz?
First, check that your PC and browser meet the system requirements for Courseware.
If your system meets the specifications, please:
Shut down your computer. Wait 10 seconds.
Restart your computer.
Once your system is back up, run one browser window with only Courseware open.
We also recommend:
Using Google Chrome or Microsoft Edge as your browser
Clearing your cookies and cache for the timeframe:

"All Time" in Chrome
"All Time" in Edge

Disabling your browser extensions in Chrome and Edge.
Note: It is best to keep this window open/active in the foreground until your quiz is completed. Try closing all other tabs and browser windows to free up CPU and bandwidth.
Why is my quiz score zero in the Gradebook?
When you select the "Take Quiz!" button, the quiz attempt starts, and will be automatically submitted to the Gradebook when you complete it. A quiz score of zero could result if your instructor has decided not to offer partial credit, and you either ran out of time on the timer, or the quiz due date passed while you were still taking the quiz. If either of those happened, the Gradebook will also have the status "Time Expired" for that quiz.
Note: Short answer questions and quizzes have open-ended answer fields, and do not allow more than one attempt in the Gradebook. Please ask your instructor to create a support ticket requesting we clear the attempt.
If you have concerns about your grade, please contact your instructor.
I lost my internet connection in the middle of taking my quiz. Now what?
If you did not close your quiz before reconnecting to the internet, your partially completed quiz score will be recorded and displayed.
If you lose connection to the internet before finishing the quiz, and then close your quiz before reconnecting, your quiz status will be "In Progress" in the Gradebook. To clear out this status, you will need to retake the quiz. Starting a new attempt causes this notification to clear out of the Gradebook. Your existing "In Progress" attempt will be closed out, but the score will be calculated and displayed when you start your new attempt. Both the first and second attempt scores will be visible in the Quiz Attempt Review screen.
If you do not have more attempts to use, or the quiz's due date has passed, contact the instructor for an extension and/or additional attempts.
For more FAQs or troubleshooting help, check out these articles:
Problems joining your instructor's Course?
Getting Started with Student Courseware
Changing from a free trial to a paid subscription, or extending a paid subscription
You can also find lots of helpful information about using Courseware on our YouTube Channel and on the Visible Body Blog.
If you still have questions, you can contact support at https://support.visiblebody.com/hc/en-us/requests/new