This article is for instructors or students who want to know all the ways Visible Body offers help with Courseware questions about procedures, ideas, and troubleshooting.
Visible Body Courseware Help Center
Help is always at your fingertips! Navigate to the Help Center, scroll down to Visible Body Product Support, and select Visible Body Courseware. The Courseware Help Center home screen will appear with the following features: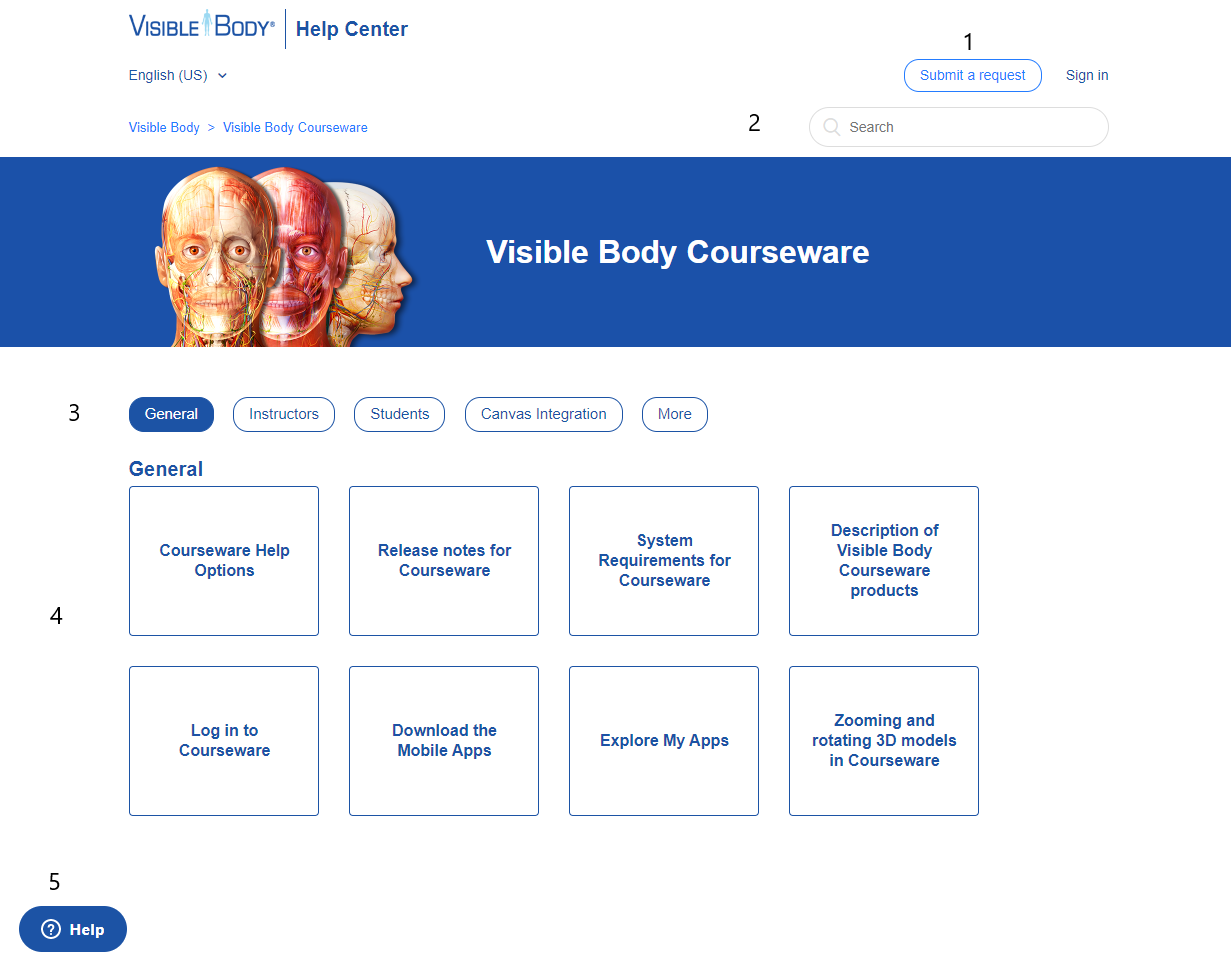 Submit a request: Launch and fill out a Support Ticket request form
Search tool: Enter search criteria to find information on any topic
Support article categories - General, Instructors, Students, Canvas Integration and More: Choose the category that best describes you or your topic of interest to quickly zero in on the answer you need
Support articles
Live Chat/Help widget
Courseware articles
Need a quick reference source to find an answer to a specific question? Our collection of help articles offers clear, direct instructions and tips you can access anytime on various topics.
The Courseware support articles are organized into three audience categories: General, Instructors, Students, Canvas Integration and More:
You'll find information about:

release notes
system requirements
product lists
navigating the apps
workflows
tips and tricks
FAQs and troubleshooting

Need info on another topic? You can enter a keyword into the search tool to find out more. Our support articles also contain links to related content from the entire Visible Body support articles collection.
Support Team
Are you looking for one-on-one support from smart, experienced, helpful, and friendly professionals? Look no further than the Visible Body Support Team!
Select this icon
on any of our Courseware pages to access our support team. All users (both instructors and students) can submit a support ticket at any time.
Chat/Help feature
Use our Chat/Help feature on every Courseware Help Center and Courseware page! To access, select the Live Chat/Help widget in the bottom-left corner.
This indicates support agents are available to answer questions in real-time via Chat.

When live support agents are not available, the Help widget will appear, and you can leave a message that support agents will answer.
Training for instructors
Instructors know that face-to-face learning is ideal with more complex topics. Visible Body has trained team members who can help. Talk to your sales rep about scheduling one-on-one and group training sessions and workshops.

We also love holding webinars! Subscribe to the Visible Body YouTube channel and check out our latest webinars about new releases, updates, and timely topics.
Instructor resources
Note: For instructors' eyes only - do not publish the Instructor Resources course!
So many assets, so little time! We created the Instructor Resources course to be your on-call reference guide. It's our in-app solution for when instructors need help quickly locating how-to information in the middle of creating or customizing courses, assignments, quiz questions, 3D interactive views, flashcards, and more. It's connected to the most current information available on our resources, how to use them, and ideas for engaging instruction.
The course
Add this comprehensive Instructor Resources course to your account:
Select the Premade Courses tab on the top right of the My Courses page.
It will direct you to the Premade Courses page.
Select the "Training" link below "Browse courses:"
Select "Add course to my account" and save the course onto your My Courses page.
The web page
Note: For instructors' eyes only - do not share Instructor Resources web page with students!
Haven't downloaded the Instructor Resources course to your My Courses page yet? No problem! Navigate to the Instructor Resources tab on the left navigation panel and select "Instructor Resources" to launch the Instructor Resources web page (see below):
Here, you'll find links to:
Flashcards & Tours
Lab Activities & Answer Keys
Instructor Manuals and Unit Outlines
Premade Courses
Free Educational Materials (shareable with students!)
Support & Training
Not sure which Courseware help option to choose? Start with our Help Center!